2011 Aaron Rodgers Game Worn Green Bay Packers Jersey, Unwashed....
Click the image to load the highest resolution version.
Description
Worn in Nationally Televised Thanksgiving Day Victory over the Detroit Lions.
2011 Aaron Rodgers Game Worn Green Bay Packers Jersey, Unwashed. For the professional athlete, next to earning a World Championship, there's no feeling quite like redemption. Ask Aaron Rodgers-he knows a thing or two about both. It was a long, steep climb out of the shadow of his predecessor Brett Favre, the most prolific passer in NFL history and the athletic embodiment of the noble Midwestern work ethic for a consecutive games streak that belongs on the shelf next to Ripken and Gehrig's. Many Green Bay fans took the news of a 2008 quarterback change like children of a divorce, with Rodgers in the role of evil stepmother.

Today, of course, that sentiment is as dead as Curly Lambeau, and Aaron Rodgers tops many sportswriters' lists for the best at his position. While Rodgers graciously acknowledges the value of his three seasons of apprenticeship under The Gunslinger, it's clear that he is no Favre clone, similar only in his coolness under pressure and uncanny knack for dramatic victory. A Super Bowl XLV Championship, for which Rodgers likewise earned the game's MVP Award, officially established the team as his own, and one of the most serious assaults on the 1972 Dolphins' sole ownership of a perfect record was Rodgers' encore.

Here we present a flawlessly documented jersey from that 2011 season, worn during the Pack's nationally televised Thanksgiving Day victory over the Detroit Lions. In a dominating performance punctuated by two touchdown passes and over three hundred passing yards, Rodgers moved the Packers to eleven and zero and extended Green Bay's winning streak to seventeen games, inclusive of the close of the 2010 Super Bowl season. At the conclusion of the twenty-seven to fifteen Turkey Day victory, Rodgers was presented the "Galloping Gobbler" award as the game's MVP.

The road white mesh jersey is sourced from the Packers and is accompanied by a Certificate of Authenticity from the team, signed by President and CEO Mark Murphy. It remains in unwashed condition, with various points of impact apparent throughout (though Rodgers took little fire in this contest), and still fairly pungent with the scent of Rodgers' sweat. Number "12" is applied in green tackle twill to chest, shoulders and verso, where "Rodgers" stands in three-inch block. Size "48" label at interior collar is affixed with the team's holographic authentication sticker, and tagging in tail is lost to Rodgers' elasticized customization. It's noteworthy that this is the only road white Rodgers gamer yet released by the team, adding appeal to a garment with no shortage thereof.

The dreams of both a perfect season and a Super Bowl Championship repeat would ultimately fail to materialize for the Packers, but Rodgers' individual brilliance was duly noted by the League, which crowned him the NFL MVP for 2011. The enormous desirability of the jersey worn in the most-watched regular season game of that dominating campaign should be self-evident. COA from the Green Bay Packers/Team President Mark Murphy.

Click here to watch game video highlights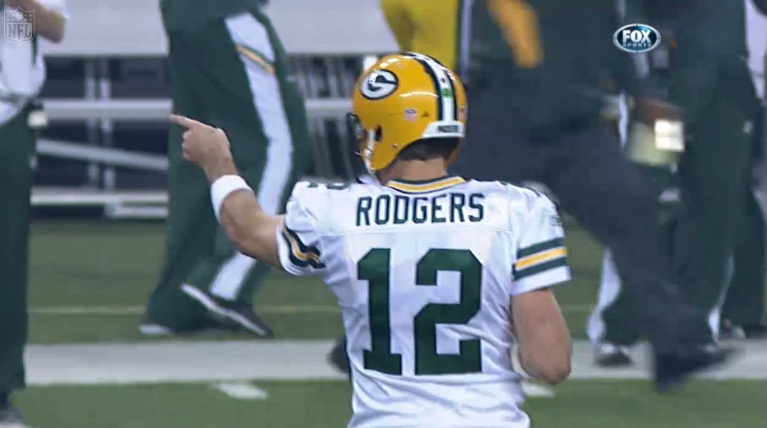 Auction Info
August, 2012
2nd Thursday
Bids + Registered Phone Bidders:
22
Lot Tracking Activity:
N/A
Buyer's Premium per Lot:
19.5% of the successful bid (minimum $14) per lot.