Guided Navigation
What is Guided Navigation?
How do I start my search?
How do I narrow my search?
How do I expand my search?

What is Guided Navigation?
Guided navigation is the ability to add and remove keywords and categorizations of items to filter your results. As you add these filters, they appear in the breadcrumb trail above the search results. You can remove any filter from the breadcrumb trail at any time.

How do I start my search?
Start your search just about as you've always done. From the home page, catalog home page, or search page, you can select a keyword and choose a sport such as Baseball, Basketball or Football, or a type of collectible such as Sportscards, and then click "Search". Much of the time, this will be all you need!

How do I narrow my search?

The real power of Guided Navigation is the ability to narrow your search results. The left column allows you to add filters, such as "Sports Category", "Current Bid Range", "Reserve Status", "Sports Grade", "Special Attributes", and so on. Each time you make such a selection, the listing of results will become smaller, showing only those items that meet all the criteria you have selected. You can also add or change a keyword, such as "Mantle", at any time, if that will help your search. Sometimes a new selection will open up new sub-selection possibilities; for instance, if you start your search by looking at all Sportscards, you can then narrow your search to just specific time periods, lots, sets, or whichever suits your collecting interests best.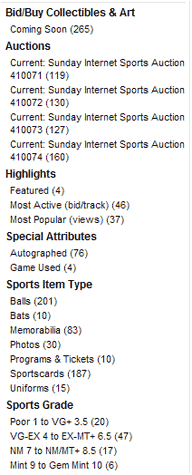 How do I expand my search?
You can add or drop fields or keywords from your results at any time. Above the listing of results is a complete list of the filters you have selected. Click on the remove link next to any filter to remove it, and the page will refresh to show all items matching the new broader specifications.

For Example:
Imagine — you collect Baseball cards. You want the highest quality cards available, and you are only interested in cards graded by PSA. How do you search for them?
Start by choosing "Baseball" from the drop-down menu on the home page or search page. This will result in a listing of all of the Baseball-related items we have available for auction or purchase.
To limit your search to baseball cards, go to "Sports Item Type" on the left side of the page and choose the type of item you want:
Balls
Bats
Memorabilia
Sportscards
Now, go to Authentication and choose the service that most interests you:
And maybe you're only interested in the finest available quality. From Sports Grade choose the grade range — or ranges; you can choose as many as you want — that you're looking for:
Poor 1 to VG+ 3.5
VG-EX 4 to EX-MT+ 6.5
NM 7 to NM/MT+ 8.5
Mint 9 to Gem Mint 10
Or even a featured item in an auction, in Highlights:
Featured
Most Active (bid/track)
Most Popular (views)
And, if you like and haven't done so already — add a keyword (use the box right below "Refine Your Results"). You can change a keyword you've already used in the same place:
To change your search from Baseball to Football while keeping all of the other criteria you've already chosen, click "Remove" next to your selection of Baseball at top, then choose "Football" from the list of denominations on the left.
Keep in mind always that your available search selections are on the left side of the page, and that the listing of selections you've already made is at the top, and that you can always remove a selection you've already made by clicking on the "Remove" link next to it. You can also restart a search from scratch at any time by using the textbox and dropdown menus at the top of the page. Remember: once you've reached the search page, you can make your selections in any order!