Pair of 1913 Brooklyn Dodgers Jerseys to Make Debut in May Sports Auction
In the history of twenty-first century sports collectibles auctions, the offerings of authentic Major League game-worn jerseys that date to the early 1900's could be counted on Mordecai Brown's pitching hand. Dead Ball Era uniforms just simply don't exist anymore, so one could imagine the skepticism Heritage Auction representatives felt when a polite gentleman telephoned to inform us that he was in possession of not one, but two gamers from an early Brooklyn Dodger.
An email with digital photographs quickly turned our skepticism to giddiness, however, as the images served to validate the outrageous claim. For exactly one hundred years, the home white jersey, and road grey 1913 Brooklyn flannels that will be featured in our May catalog auction, have been carefully preserved in the family of Earl Hershey Yingling, a southpaw pitcher that supplied two of his five seasons of Big League service to the Brooklyn cause. It would appear that, upon his transfer to the Cincinnati Reds for the 1914 campaign, Yingling simply bundled up his jerseys and took them home, where they apparently were left to languish in a chest filled with mothballs. The result is two of the finest pre-1920 Major League jerseys ever to surface in the collecting hobby.
The preview for our May sports card and memorabilia is now viewable at HA.com, with bidding to begin in the next couple weeks. Please click here to view the preview of this highly-anticipated auction.
Lou Gehrig's 1927-28 New York Yankees game worn jersey brings $717,000 in $5.95+ million New York City sports event
The great names of New York Yankees history dominated the night on Feb. 23 when Heritage Auctions held its' winter Platinum Night Sports auction, which realized more than $5.95 million, at the Fletcher-Sinclair Mansion (Ukrainian Institute of America) with Lou Gehrig's 1927-28 game worn jersey leading the offerings with a final price realized of $717,000, followed by Mickey Mantle's signed and endorsed 1949 Yankees signing bonus check, which soared to almost 30 times its pre-auction estimate to finish the night at $286,800 (all prices include Buyer's Premium).
"Minus Babe Ruth, who was also well-represented in this auction, there are no Yankee legends greater than Gehrig and Mantle," said Chris Ivy, Director of Sports Memorabilia at Heritage. "Clearly prime material related to the greatest team of baseball's greatest era still commands the utmost respect and best prices from collectors."
The auction made national and international news as the jersey that was worn by team captain Mike Eruzione in the 1980 U.S. Men's Olympic Hockey Team "Miracle on Ice" 4-3 victory over the dreaded and feared Soviet Union team — voted Top Sports Moment of the 20th Century by Sports Illustrated — and the stick that Eruzione used to score the eventual game-winning goal realized $657,250 and $262,900, respectively, to lead the $1.4+ million Mike Eruzione Collection.
For hardcore collectors, however, it was baseball that commanded the attention and the Yankee hits continue to roll in, especially items attached to Gehrig and Mantle, as an early-to-mid-1930s Gehrig game worn New York Yankees cap realized $191,200 in complement to the '27-28 jersey, while a 1965 Mickey Mantle original painting by LeRoy Neiman, a lifelong Yankees fan, brought $131,450. Another Mantle highlight of the night was the 1956 Home Run baseball off "The Mick's" bat that nearly escaped Yankee Stadium, the closest any baseball ever came to leaving the confines of the legendary ball park, which soared in bidding to finish the auction at $95,600.
The Finest 1927 New York Yankees team signed baseball on Earth — representing what is, arguably, the greatest team to ever take the field — was the subject of spirited bidding before garnering $149,375, while two checks related to the New York Yankees' purchase of Babe Ruth from the Boston Red Sox — the most famous transaction in baseball history, seen as the beginning of the Curse of the Bambino - realized $95,600.
Not lost on the crowd, or auction watchers, was the inclusion in the auction of "The Bloody Sock" worn by Curt Schilling in Game Two of the 2004 World Series, which ended 86 years of Red Sox futility, was seen as the end of Ruth's curse, and realized $92,613.
Lew Alcindor's — who would become Kareem Abdul-Jabbar in 1972 — 1969-1971 game worn Milwaukee Bucks Jersey, also worn in the Bucks only championship, brought $95,600, and found the perfect complement two lots later in the form of Oscar Robertson's '70-'71 NBA Championship season game worn Milwaukee Bucks jersey, which realized $65,725.
Wayne Gretzky's 1991-1992 game worn Los Angeles Kings jersey was another hockey highlight of the night, bringing $77,675 amidst spirited bidding, while a 1939 Masters Championship Gold Medal presented to Ralph Guldahl, the best golfer on the planet at the time, was a big hit with golf collectors at a $65,725 price realized. Modern-era collectibles got a jolt when the jersey, cleat and gloves worn by Colin Kaepernick in his record setting 2013 game against Green Bay realized $22,705.
Heritage Sports Winter Platinum Night Recap
For those who couldn't attend in person, you can enjoy this highlight video of the Heritage Sports Winter Platinum Night event:
Meet Dirk Nowitzki And Help Fight Childhood Hunger

Dirk Nowitzki is giving you a chance to meet him! Bid in the Kroger "Give & Go" online auction benefiting North Texas Food Bank's Food 4 Kids Program. You can win two tickets in a suite, an autographed jersey, tour of the Mavericks facility and meet the 2011 NBA Finals MVP — Dirk Nowitzki! Proceeds go to the North Texas Food Bank's Food 4 Kids program that feeds 12,000 chronically hungry children in North Texas each weekend during the school-year.
Now through March 15th, you can bid on twenty (20) packages that include:
Invitation for two (2) for a special meet & greet with Dirk Nowitzki, including a tour of Mavs practice facility and locker room after Mavs-Bulls game on March 30. With photos and autographs!
Two (2) tickets inside a catered suite for the Mavs-Bulls game on March 30 at American Airlines Arena in Dallas
One (1) Mavs player jersey autographed by Dirk Nowitzki
Sunday Internet Auction Highlights
HA.com/Sports is the place to be every Sunday night for collectors of fine sports memorabilia and trading cards.
Over 100 lots will close to initial bidding at 10 PM CT. On a lot-by-lot basis, starting at 10:00 PM CT, any person who has bid on the lot previously may continue to bid on that lot until there are no more bids for 30 minutes. For example, if you bid on a lot during Normal Bidding, you could participate during Extended Bidding for that lot, but not on lots you did not bid on previously. If a bid was placed at 10:15, the new end time for that lot would become 10:45. If no other bids were placed before 10:45, the lot would close. If you are the high bidder on a lot, changing your bid will not extend the bidding during the 30 Minute Ending phase (only a bid from another bidder will extend bidding).
No other major sports memorabilia auction house provides its clientele this much bidding excitement. It's just another reason why Heritage is the World's Largest Collectibles Auctioneer.
Call or email today to discuss consigning your fine sport collectibles and trading cards to an upcoming Heritage auction.
Website Tips: Buy Now and Minimum Offer for Make Offer to Owner Lots
If you are participating in our Make Offer to Owner program, we have now made it possible for you to select both a Buy Now amount and a Minimum Offer amount on items that are eligible for the Make Offer to Owner program. You can set the minimum offer to anything you want, as long as it is at or above the minimum.

By clicking on the link to "Change the Minimum Offer amount and/or set your own Buy Now price", a window on the page will open up, allowing you to either add/change the Buy Now price, or to add/change a minimum offer. This allows you, if you like, to specify both a Buy Now price and a Minimum Offer price; for instance, you can set a Buy Now price of $1,500, but can still choose to be notified of any offers above $1,300.

Items with both a Buy Now price and a Minimum Offer price are distinguished in the search results by having both the Buy Now from Owner icon and the Make Offer to Owner icon visible. Once on the item page, the would-be buyer can choose between Buying Now at the designated price or Making an Offer.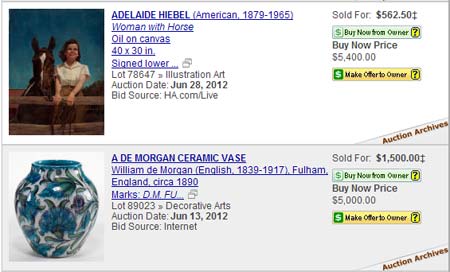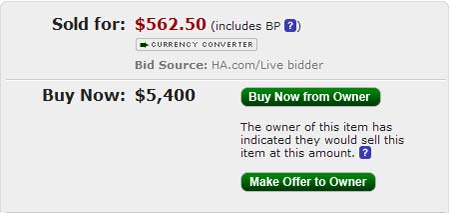 A desirable side-effect of this change is that it is now possible to remove a lot from Buy Now status. To do this, just blank out the Buy Now amount, and add a minimum offer amount if you choose. If both the Buy Now and Minimum Offer boxes are blank, then you will be notified of any offers above the default minimum.