1959 Drysdale Uniform Slated for Heritage February Platinum Auction
As the holiday season draws near, Heritage Auctions' highly anticipated February 23, 2013
Platinum Night Auction
is also right around the corner, and it is sure to be one of the most exciting hobby events of the new year. Coming off our
August 2012 Platinum Night event
that featured "The Black Swamp" caramel card find and countless other one-of-a-kind pieces, and a $5.8 million
October 2012 Signature Auction
, the
February Platinum Auction
promises to set hobby records, and will undoubtedly turn the heads of savvy sports card and memorabilia collectors everywhere.
One of the highlight pieces that will be offered in that very auction are baseball icon
Don Drysdale's jersey and pants
from one of the most important eras in Los Angeles Dodgers history.
The home white flannel worn on the mound by Hall of Famer during the team's 1959 championship campaign, and possibly during Drysdale's Game Three Fall Classic victory at the Los Angeles Coliseum. As the unimprovable rating from the experts at MEARS would indicate, the garment remains 100% original and unaltered since its time with the iconic beanballer, announcing "Dodgers 53" in classic blue and red felt on the chest, with the digits repeated in blue on verso. Lower left front tail holds proper "Rawlings Hall of Fame Flannel [size] 44" labeling above a blue chain stitched "Drysdale 59," embroidered directly into the jersey body. Interior tail reveals a washing instructions label holding a "Set 1 1959" flap tag at right edge. The jersey exhibits solid wear but none of the staining or moth holes typical of decades-old flannel. The obverse is autographed twice in bold black sharpie.
Also showcased in the same lot are Drysdale's matching white pants that date to the subsequent season, as an embroidered swatch at interior waistband indicates: "Drysdale 60 33 ins." Manufacturer and washing instructions labels are identical to the jerseys, and are joined by a size "38" designator. Like the jersey, the pants show solid, undamaged wear and support a perfect joint display. To view the auction lot's preview, please click here.
Heritage Sports Experts to Head Out East for November Consignment Trip
Our sports experts will be traveling to sports card and memorabilia shows in Chicago this month and will be available to view items and large collections that would be suitable for our upcoming 2013 February Platinum Night and May Signature Auctions.
Lastly, Heritage representatives Pete Calderon and Mark Jordan will be in the Chicagoland area to visit with consignors and to attend the 45th Annual Chicago Sun-Times Sports Collectibles Convention at the Donald E. Stephens Convention Center in Rosemont, Illinois on November 16-18. To schedule an appointment with one of our sports card and memorabilia experts, please e-mail Pete Calderon at PeterC@HA.com or his direct line at (214) 409-1789.
Sunday Internet Auction Highlights
HA.com/Sports is the place to be every Sunday night for collectors of fine sports memorabilia and trading cards.
Over 100 lots will close to initial bidding at 10 PM CT. On a lot-by-lot basis, starting at 10:00 PM CT, any person who has bid on the lot previously may continue to bid on that lot until there are no more bids for 30 minutes. For example, if you bid on a lot during Normal Bidding, you could participate during Extended Bidding for that lot, but not on lots you did not bid on previously. If a bid was placed at 10:15, the new end time for that lot would become 10:45. If no other bids were placed before 10:45, the lot would close. If you are the high bidder on a lot, changing your bid will not extend the bidding during the 30 Minute Ending phase (only a bid from another bidder will extend bidding).
No other major sports memorabilia auction house provides its clientele this much bidding excitement. It's just another reason why Heritage is the World's Largest Collectibles Auctioneer.
Call or email today to discuss consigning your fine sport collectibles and trading cards to an upcoming Heritage auction.
Website Tips: Get Alerted When Your Lot Is Coming Up For Auction
Now at HA.com, you can receive Text (SMS) reminders on your smartphone, to remind you when a lot you have bid on, tracked, or consigned is coming up for Live Auction.
For any lots you choose, we will send a text message approximately 20 minutes before the lot comes up for Live Auction. This feature gives you the opportunity to not be outbid once the lot you want goes up for Live Auction — or you can choose to watch along with the auction as the hammer falls.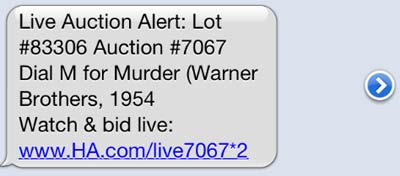 If you haven't already signed up to receive text messages, just go to MyProfile and enter your mobile phone number. We will send you a confirmation text message. To activate this service, just reply to the confirmation message with 'yes'. Heritage doesn't charge for this service, but standard text messaging rates may apply from your carrier.

Once you're signed up to receive text messages, there are two ways you can sign up to receive live bid notifications. As you place your bid, the bid confirmation page contains a link where you can click to enable the live bidding text messages. Once you click on this link, you're set up. The link is also available on the bid results page if you're the high bidder on the lot.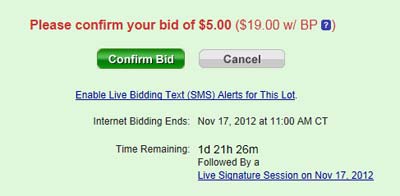 You can also add text alerts from MyBids, MyTrackedLots, or MyConsignments. Click on the checkbox to the left of all lots for which you wish to receive notices. Then, from the Lot Actions dropdown immediately above or below the lot listings, choose "Enable Live Bidding Text (SMS) Alerts" and click "Submit".

If you have Live Bidding alerts enabled, you will see a green icon next to the MyBids/MyTrackedLots/MyConsignments listing.

Live Bid notifications are available for all items in live auction sessions, regardless of whether there is a floor session or not. They are, of course, not available for our weekly Internet-only auctions.