| | | |
| --- | --- | --- |
| | In This Issue Of Sports News: | |
| | | |
| --- | --- | --- |
| | Collector News | |
Sports Experts To Hit Southern California and Philly During September Consignment Trips
With Heritage Auctions' October Signature Auction consignment deadline right around the corner, our sports experts will be travelling to Southern California and Philadelphia this month in order to view large collections, which would be suitable for what is shaping up to be our largest and one of our most impressive auctions to date.
Collectors in the Southern California area will have a chance to visit with Heritage representative Mark Jordan from September 6-8, at the Long Beach Coin, Stamp & Collectibles Expo (booth #1337). In addition, Mark will also be at Heritage's Beverly Hills office Monday, September 10, from 9:00 AM to 5:00 PM PT. To make an appointment, or for more information, please contact Mark Jordan at MarkJ@HA.com or his direct line at (214) 409-1187.
Heritage sports representatives Mark Jordan and Lee Iskowitz will also be picking up quality consignments in the Philadelphia area from September 28-30 at "The Philly Show," at the Valley Forge Convention Center.
If you have vintage sports cards, autographs or memorabilia please contact Mark in advance at MarkJ@HA.com or his direct line at (214) 409-1187 to discuss your consignment and pickup.
Sunday Internet Auction Highlights
HA.com/Sports is the place to be every Sunday night for collectors of fine sports memorabilia and trading cards.
Over 100 lots will close to initial bidding at 10 PM CT. On a lot-by-lot basis, starting at 10:00 PM CT, any person who has bid on the lot previously may continue to bid on that lot until there are no more bids for 30 minutes. For example, if you bid on a lot during Normal Bidding, you could participate during Extended Bidding for that lot, but not on lots you did not bid on previously. If a bid was placed at 10:15, the new end time for that lot would become 10:45. If no other bids were placed before 10:45, the lot would close. If you are the high bidder on a lot, changing your bid will not extend the bidding during the 30 Minute Ending phase (only a bid from another bidder will extend bidding).
No other major sports memorabilia auction house provides its clientele this much bidding excitement. It's just another reason why Heritage is the World's Largest Collectibles Auctioneer.
Call or email today to discuss consigning your fine sport collectibles and trading cards to an upcoming Heritage auction.
Website Tips: Heritage Password Changes
We have recently made a number of changes to our website to increase security. These changes largely involve passwords and when and how you enter them.
All passwords are now encrypted. This means that nobody at Heritage has access to them.

All passwords, including existing ones, are now case-sensitive. This may mean that a password you have using for a while may suddenly no longer work, especially if it's a password that you did not enter.

If you forget your password and click on the "Forgot Password" link, we will now take you to a page where you can reset your password, rather than requesting your password to be sent to your email address.

When you get to this page, enter your email address, and we will send you an email with a link to enter a new password of your choice.

If you know your password, you can still change it through MyProfile, as always.

All new passwords at HA.com, whether entered through MyProfile, the password reset page, or by signing up as a new member, must be at least eight characters long and include at least three of the following: Lower case letters (a-z), Upper case letters (A-Z), numbers (0-9), or special characters.

HA.com no longer asks you for your username and password on the same page on which you place your bids. If you are bidding from an item page, by default you will be taken to a new page that will ask for your username and password, regardless of whether you're already logged in. To get around this, check "Remember my password for bidding" as you sign in.

Search pages no longer display bid boxes unless you are signed in; instead they will ask you to sign in to bid. Once signed in, you will be able to place bids by simply clicking the "Submit Batch Bids" button.

MyBids, MyTrackedLots, and MyWantlistMatches also no longer ask for your sign-in information to place bids. Because you must be signed in to reach these pages, you need only click the "Submit Batch Bids" button.

If you try to track a lot while not signed in, whether on the search page or an individual item page, you will be taken to a sign-in page. Once you've signed in, your lot will be tracked.
Heritage members eligible for free Digital Edition subscription to The Intelligent Collector magazine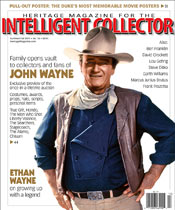 Heritage Auctions members are now eligible to receive a free digital subscription to the award-winning Intelligent Collector magazine.
To subscribe to the Digital Edition, Heritage members can visit their MyProfile page and opt in to the digital subscription. Non-members need to join Heritage first at HA.com/Join and then opt-in to the digital subscription. Heritage memberships are free.
"The Digital Edition is a replica of our Print Edition, with all the same informative stories and beautiful photos," says editor Hector Cantu. "It can be viewed online anytime, and it's easily searchable for articles and topics of interest."
Digital Editions are emailed to you immediately upon publication.
The cover price for the Print Edition remains $9.95 and it is available at Barnes & Noble bookstores nationwide. Print-Edition subscriptions begin at $21 for three issues, or $36 for six issues. To subscribe to the Print Edition, click here.
| | | |
| --- | --- | --- |
| | Consign Today | |
Top quality collectibles will also be given featured placement in print ads within such trade publications as Sports Collectors Digest, Sports Market Report and Beckett Elite, providing maximum hobby exposure. Generous cash advances are available. Call or email one of our consignment directors today to discuss your collection.
Chris Ivy
at 800 872-6467 ext. 1319
or email at CIvy@HA.com



Derek Grady
at 800 872-6467 ext. 1975
or email at DerekG@HA.com


Mike Gutierrez
at 800 872-6467 ext. 1183
or email at MikeG@HA.com


Mark Jordan
at 800 872-6467 ext. 1187
or email at MarkJ@HA.com


Lee Iskowitz
at 800 872-6467 ext. 1601
or email at LeeI@HA.com


Peter Calderon
at 800 872-6467 ext. 1789
or email at PeterC@HA.com


Jonathan Scheier
at 800 872-6467 ext. 1314
or email at JonathanS@HA.com


Chris Nerat
at 800 872-6467 ext. 1615
or email at ChrisN@HA.com


Rob Rosen
at 800 872-6467 ext. 1767
or email at RRosen@HA.com

Employment Opportunities

As the fastest growing American-based auction house, financially rock-solid Heritage Auctions continues to grow and seek the best talent in the industry. If you are a specialist or have strong general collectibles knowledge, we want to hear from you. These specialists will, in some cases, head new departments and in others will enhance existing department expertise. We have positions open at our headquarters in Dallas as well as at our new state-of-the-art galleries in prime locations in both Midtown Manhattan and Beverly Hills.

Heritage is seeking to hire the world's best specialists in the following categories:

20th Century Design Specialist: Beverly Hills, New York
American Art Specialist: New York
Asian Art Specialist: Beverly Hills
Comics & Comic Art Specialist: New York
European Art Specialist: New York
European Comic Art Specialist: Dallas, Paris
Fine Jewelry Specialist: New York
Firearms Specialist: Dallas
Modern & Contemporary Art Specialist: Beverly Hills and New York
Rare & Collectibles Wine Specialist: New York
Timepiece Specialist: Beverly Hills, New York
Trust & Estates Specialist: New York
World Coins Director: Hong Kong
World Paper Money Expert: Dallas/Remote

If you are interested and feel you have the qualifications we seek, please email your resume and salary history to Experts@HA.com.



We are also seeking to fill the following corporate positions:

Cataloger — Currency: Dallas/Remote
Cataloger — U.S. Coins: Contract, Remote
Client Services Representative: Dallas
Consignment Director — Currency: Dallas
Desktop Support: Dallas
Desktop Support Supervisor: Dallas
Digital Publishing Expert: Dallas
Graphic Designer: Dallas, Part-Time
Graphic Web Designer: Dallas
Interns: Dallas
Marketing Account Executive: Dallas, TX
Operations Assistant - Coins: Dallas
Operations Assistant - Comics: Dallas
Operations Assistant - Vintage Guitars: Dallas
Operations Assistant - World Coins: Dallas
Public Relations Assistant: Dallas
Returns Clerk: Dallas
Shipping Associate: Dallas
Web Developer: Dallas
Wine Warehouse Assistant: Beverly Hills

If you are interested in applying for one of these Corporate positions, please apply here.


Around Heritage

Furnishings, Legal Ephemera And Art That Once Decorated The University Of Texas School Of Law Library The Elton Hyder III Collection

will be offered in Dallas and online on Sept. 13 as part of our

Estate Signature Auction

at the company's Dallas Design District Annex, 1518 Slocum Street.

"For many UT alums and prominent lawyers in Texas, this collection will take them back to the days when they were studying for the bar," said Brian Roughton, Director of Heritage's Department of Fine Arts. "For collectors with a fondness for law and historical artifacts, it's a bonanza of fascinating art and documents as well as stately library furniture."

The collection features more than 500 items collected by Elton Hyder, Jr., once on loan to the expansive law library in Austin.

"Hyder's objective for this collection was to give the Library a sense of history within the law," said Roughton. "In the contemporary Internet world, however, the UT School of Law no longer needs floors of library space and has begun converting into faculty offices, negating much of the need for this furniture and art. Consequently, Elton Hyder III and his wife want to share it with fellow alumni, the art world and interested individuals."

Among the choice items being auctioned on Sept. 13 are a

working Continental Cannon

(estimate: $4,000+), a

framed display containing 17 19th Century English Truncheons

(estimate: $6,000+), a large oil painting, "

George Washington

" after a Gilbert Stuart original (estimate: $10,000+) and a "

William III

" portrait with a crown pediment (estimate: $8,000+), all of which decorated the halls of the Law Library for years.

The bulk of the collection is based around historical prints and manuscripts, which exhibit judicial proceedings and ideas. One example is an exquisite framed 1708 print "Queen Anne Illuminated Manuscript in Latin on Parchment, Exemplification of a Recovery, Buckinghamshire, 1708" (estimate: $2,000+). Another highlight is a 19th century "George the Fifth by the Grace of God," Illuminated Manuscript with Royal Seal (estimate: $2,500+).

Star lots include a

17th century Italian Renaissance Style Walnut, Glass and Iron Bookcase

(estimate: $6,000+), a

Spanish Baroque wood and Ivory Vargueno and Tranquillo

(estimate: $1,500) and a stunning

Italian Renaissance Style Painted Wood Bench

(estimate: $6,000+).

Among the judicial offerings are four English Barristers Wigs with provenance linking them to established judges. One such example belonged to Charles Dickson Esq. (estimate: $1,500+), with an archival photograph displayed with the wig under a Plexiglas case.

"This is a collection where the worlds of law, art and history intersect," said Roughton. "We think collectors, lawyers and UT alums alike will find unique pieces that will have special meaning to each one of them."

More information about fine and decorative art auctions.

Art From the Heart Charity Auction

Bidding in the September 14

Art from the Heart Auction

supports Dallas Challenge in its mission to help youth stay in school, off drugs and alcohol, and out of the criminal justice system.

Artists and celebrities create one-of-a-kind pieces of artwork for our auction. Proceeds support programs dedicated to improve the health, education and wellbeing of children and youth from our community. This auction is presented only online and bidding is taken through our website. Internet bidding closes at 10:00 PM Central Time on September 14, 2012.

Thank you from Art from the Heart!

No buyer's premium is due for these Charity items.

More information about Charity auctions.
| | | |
| --- | --- | --- |
| | Sports Trivia | |
| | | |
| --- | --- | --- |
| | Current Auctions | |

Pre-Qualify to Bid

To maintain the highest level of integrity in our auctions, we verify every account prior to bidding.

Pre-Qualify Now
Consign Now!

e-mail or Call Today:

Chris Ivy

1-800-872-6467 x1319
Don't Miss Out

Get e-mail notifications in all of your areas of interest.

Click Here!