1951 Mickey Mantle World Series Bat Slated for Upcoming Platinum Auction
With about one month to go before the consignment deadline hits for the Heritage Sports 2012 Platinum Auction, the "World's Largest Collectibles Auctioneer" already has some of its key lots in place for what promises to be the year's best consignment opportunity.
While staying focused on collectibles with key characteristics, such as historical firsts, extreme rarity and unmatched significance, all serious collectors' eyes will be fixed to the highly anticipated event, which will be held Thursday August 2, at Camden Yards in Baltimore, during the week of the National Sports Collectors Convention.
No Platinum Auction would be complete without an extremely important artifact from Mickey Mantle. We are thrilled to offer the
only known bat that Mantle was issued during his rookie season for use in the historic 1951 World Series
. Graded an impressive GU 8 by John Taube of PSA/DNA. The signature model Hillerich & Bradsby T41 provides a block lettered "World Series 1951, New York Yankees" framing the facsimile signature on the barrel, and heavy use with repaired handle and barrel and scattered ball marks, stitch impressions and cleat marks. We must report that a percentage of this use is not Mantle's — the lumber took on a second career in the sandlots of the Mick's childhood home of Commerce, Oklahoma. It was a gift from Mantle to his high school baseball coach who passed the bat on to his young friend Gomer Evans, a youngster who, like most boys in this small town, idolized the Mick.
This bat
must be considered one of the most important and desirable bats of the post-war era. The historic ash relic measures thirty-five inches in length and just under thirty-four ounces in weight. It is accompanied by a letter of provenance from the Evans family, who recounts that Gomer was informed at the time of receipt that this was the bat with which Mantle cracked his only hit of the 1951 Series.
Please click here to view the lot preview
.
East and West Coast Heritage Sports Consignment Trips Scheduled for May
We recently had our most successful auction to date, and Heritage Auctions' sports division is hitting the road for two sports card and memorabilia consignment trips this month.
Collectors in the Pittsburgh area will have a chance to visit with Heritage representatives from May 18-20, by appointment, or by attending the "Pittsburgh XXXIV Spring Classic" at the "Charles L. Sewall Center" of Robert Morris University. To make an appointment or for more information, please contact Mark Jordan at MarkJ@HA.com or his direct line at (214) 409-1187. In addition, sports card expert Derek Grady will be in attendance at the show and can be reached at (214) 409-1975 or DerekG@HA.com.
Also, Mark Jordan will be taking in quality sports consignments at the "2012 Long Beach Coin, Stamp and Collectible Expo" from May 31 - June 2 at the Long Beach Convention Center. To make an appointment or for more information, please contact Mark Jordan at MarkJ@HA.com or his direct line at (214) 409-1187.
Sunday Internet Auction Highlights
HA.com/Sports is the place to be every Sunday night for collectors of fine sports memorabilia and trading cards.
Over 100 lots will close to initial bidding at 10 PM CT. On a lot-by-lot basis, starting at 10:00 PM CT, any person who has bid on the lot previously may continue to bid on that lot until there are no more bids for 30 minutes. For example, if you bid on a lot during Normal Bidding, you could participate during Extended Bidding for that lot, but not on lots you did not bid on previously. If a bid was placed at 10:15, the new end time for that lot would become 10:45. If no other bids were placed before 10:45, the lot would close. If you are the high bidder on a lot, changing your bid will not extend the bidding during the 30 Minute Ending phase (only a bid from another bidder will extend bidding).
No other major sports memorabilia auction house provides its clientele this much bidding excitement. It's just another reason why Heritage is the World's Largest Collectibles Auctioneer.
Call or email today to discuss consigning your fine sport collectibles and trading cards to an upcoming Heritage auction.
Heritage members eligible for free Digital Edition subscription to The Intelligent Collector magazine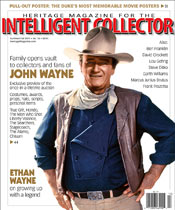 Heritage Auctions members are now eligible to receive a free digital subscription to the award-winning Intelligent Collector magazine.
To subscribe to the Digital Edition, Heritage members can visit their MyProfile page and opt in to the digital subscription. Non-members need to join Heritage first at HA.com/Join and then opt-in to the digital subscription. Heritage memberships are free.
"The Digital Edition is a replica of our Print Edition, with all the same informative stories and beautiful photos," says editor Hector Cantu. "It can be viewed online anytime, and it's easily searchable for articles and topics of interest."
Digital Editions are emailed to you immediately upon publication.
The cover price for the Print Edition remains $9.95 and it is available at Barnes & Noble bookstores nationwide. Print-Edition subscriptions begin at $21 for three issues, or $36 for six issues. To subscribe to the Print Edition, click here.